By Loán Lake, Moishe House Senior Communications Manager
On August 22, Moishe House, the world's leader in engaging Jewish young adults around the world, recognized the achievements of its global community builders during their annual resident training conference, currently dubbed CouchCon because of its virtual nature for the second year in a row.
More than 400 individuals gathered together on over 200 screens to celebrate "The Ultimate 'Us' Time," commemorating a year of hybrid programming. The program opened with a tikkun olam ritual and reflection led by Moishe House director of Jewish service learning, Jessica Herrmann, and opening remarks by founder and chief executive officer, David Cygielman. Cygielman shared the new initiatives being implemented within the organization and its expanded community-building efforts. "We are about building community and providing welcoming spaces for young adults to find their tribe and celebrate who they are at their core," said Cygielman during his address to conference attendees. "If each of us commits to some little impactful thing each time we come in contact with someone, thousands of little things will change the way we act, talk, and live."
One of the highlights of the conference was the presentation of the Michael H.K. Cohen award, by Moishe House Board Secretary Stephen Cohen. The annual award and travel fellowship is given in memory of Cohen's son, Michael, a former active participant in Moishe House programming in both China and Boston, and an avid world traveler, whose life was tragically cut short in 2018 at age 29. The 2021 recipients are Alessandro Gai, a founding resident of Moishe House Rome, the first house in Italy, and Chaya Bar-Chaim, a founding resident of Moishe Pod Crown Heights in Brooklyn, New York. "It is an honor to be receiving this award in Michael's memory," said Bar-Chaim. "I'm humbled to be the recipient of the Michael H.K. Cohen award, and I hope I can embody Michael's spirit of friendship, curiosity, and adventure."
Each award recipient will be able to visit any Moishe House community around the globe. They will also each receive a custom piece of Judaica, commissioned by artists Hillel Smith and Mia Schon, who participated in Moishe House's Expedition Maker virtual art contest.
View a video recap of the conference at vimeo.com/592777242/55fe448109, or to learn more about Moishe House, visit www.moishehouse.org.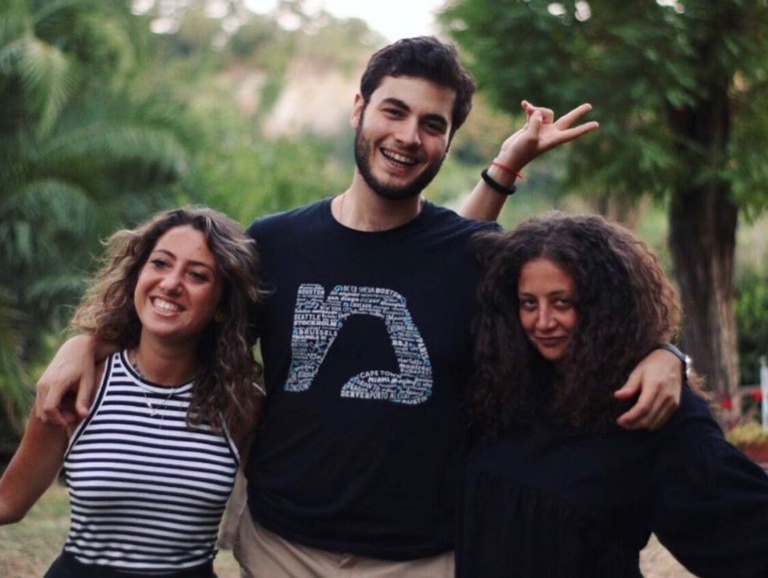 Alessandro Gai (middle), co-recipient of the 2021 Michael H.K. Cohen award, pictured with his roommates and founding residents of Moishe House Rome, the first Moishe House in Italy