The Levine Jewish Community Center's popular Charlotte Jewish Film Festival (CJFF) is back for its 19th year from February 4 to 26, 2023. The All Festival Pass will be available for $154 through January 15 and $192 January 16-February 4. All Festival passes, as well as tickets to individual films ($15), can be purchased online at www.charlottejcc.org. If you need assistance, there will be many choices available to you once you get to the site.
We could not provide this cultural opportunity to our community without the generous and loyal support from The Jewish Federation of Greater Charlotte. Our corporate partners, especially Truist, Hearst Service Center, Hearst Entertainment & Syndication, and Pinnacle Financial Partners, and our individual patrons and community partners have remained steadfast. A big thank you to our screening committee members: Jeff Turk (chair), Lisa Davidson, Bob Ecker, Bob Kipnis, Ross Levin, Michael Lieberman, Ina Lubin, Gary Maniloff, Candace Naliboff, Brenda Patten, Melissa Raphael, Marcia Stern, David Thalberg, and Laura Zagoria for their tireless dedication. We are excited to announce a diverse slate of 14 films and two bonus events for a grand total of 16 events for our 19th season!
This year, we will host a pre-festival film, "Reckonings," on Wednesday January 18 in The Sam Lerner Center for the Cultural Arts at Shalom Park, free to all. Roberta Grossman's fascinating post-Holocaust documentary asks the difficult questions: Could the perpetrators face their crimes? Could any compensation deliver justice to the survivors? Under the threat of violence, six years after the Holocaust, a group of German and Jewish leaders pushed for reparations as a step towards healing.
The festival will take place at multiple venues. We kick things off at Temple Israel and will view some films in The Sam Lerner Center for the Cultural Arts at Shalom Park. With the sudden closing of Regal Phillips Place, where we have shown films in past years, we were fortunate to have two new venue hosts, The Gorelick Theater at Charlotte Country Day School and Temple Beth El, come to the rescue for our two closing films. Q & As with special guests will add a layer of understanding and bring our community together. Here are a few highlights of our exciting 19th season: 
Hadassah of Greater Charlotte will sponsor our opening Night (February 4) film "Fiddler's Journey to the Big Screen," in which Oscar-nominated filmmaker, Daniel Raim, puts us in the director's chair and in Norman Jewison's heart and mind, drawing on behind-the-scenes footage, never-before-seen stills, and interviews with many of the actors to show us how the experience of making the film deepened Jewison as an artist and revived his soul. We are very excited to welcome special guest Neva Small, who played Tevye's daughter Chava in the film, to Charlotte to celebrate Opening Night with us, with selections of her show "Becoming Chava." A reception will follow the film and special guest presentation.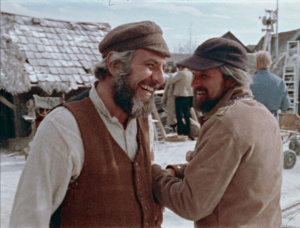 On Wednesday, February 8, at 7 p.m., Temple Israel will sponsor "The Levys of Monticello" with filmmaker Steven Pressman in attendance for a Q & A following the film. This documentary tells the little-known story of the Levy family, who owned and carefully preserved Thomas Jefferson's Monticello for nearly a century. The remarkable story of the Levy family also intersects with the rise of antisemitism that runs throughout American history.
On Thursday, February 9, at 7 p.m., the Stan Greenspon Holocaust and Social Justice Education Center will sponsor "Repairing the World: Stories from the Tree of Life," which documents Pittsburgh's powerful community response to hate in the aftermath of the deadliest antisemitic attack in U.S. history, leading to the formation of the "Not in our Town" movement. Filmmaker Patrice O'Neill will join with members of our community for a panel discussion.
On Saturday, February 11, we move to the Sam Lerner Center for the Cultural Arts at Shalom Park for "Paris Boutique," a crazy Israeli comedy, followed by a matinee on Sunday, February 12, entitled "Rose," a dramedy about a 78-year-old woman who just lost her husband. On Wednesday, February 15, our largest sponsor, The Jewish Federation of Greater Charlotte, will sponsor "Exodus 91." This documentary tells the incredible story of Operation Solomon, Israel's airlift of the Ethiopian Jewish community. This film explores challenging questions about cultural identity, the politics of immigration, and the hardships that remain for these immigrants, and the others that followed.
Beginning on Saturday February 18, we will be hosted by The Gorelick Theater at Charlotte Country Day School, for four films: "Farewell Mr. Haffmann," "Barren," "SHTTL," and "The Man in the Basement." We are very grateful to the Gorelick family and Charlotte Country Day for making this possible! 
We are also very grateful to Temple Beth El (TBE) for becoming a new venue for us this season. Our closing weekend will be at TBE, beginning with "America," an Israeli romantic drama, on Saturday February 25, at 7 p.m. We will then view "Carol of the Bells, " a Ukrainian film set during pre and post Holocaust, on Sunday, February 26, at 2 p.m. at The Sam Lerner Center for the Cultural Arts at Shalom Park. Our closing film will be "My Neighbor Adolf," a Polish dramedy, on Sunday, February 26, at 7 p.m. at Temple Beth El, followed by a reception. 
We are very excited about our 19th CJFF season, and we plan to celebrate being back together in person this year! CJFF is a wonderful community event that is not to be missed. Please think of some new friends or family that you can invite to the film festival. We can't wait to laugh, cry, think, and feel — together again this year!